June 2, 2021
Options to cool your home
Warm temperatures are finally here again. And with them comes the challenge of keeping your house cool on those scorching days. If you're tired of open windows and fans that do little, now is the time to install an air conditioning system that cools your whole family. With Applewood's help you have several options!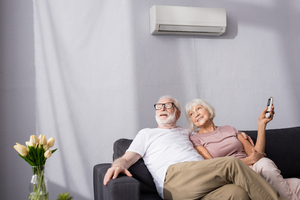 Central Cooling
If you already have a furnace, this option is the simplest and most practical. It consists of a duct coil that connects to an outdoor condensing unit. The biggest benefit is that you cool your entire house using the same system of ducts and vents that your heating uses.
Ductless Mini Splint
If you have a boiler and/or radiant heat (no ducts in your home), a ductless mini split can provide cooling to one room at a time. This system involves small cooling units installed in the rooms you want cooled. They connect to an outdoor compressor via a refrigerant line. You can control each independently.
If you have an open concept layout, one unit may be sufficient to cool your kitchen, living room and dining room – depending on size. Larger rooms will require separate units. Multi split units, which have one outdoor unit and multiple indoor units can cool most or all your house, depending on your budget and how many spaces need cooling.
Window Unit
Window units are packaged cooling systems that you place in your window. They provide cooling to that particular space. As with the ductless mini split, you are limited to the space in which the unit is installed. In general, window units are not aesthetically pleasing but their lower cost makes them an attractive option for homeowners on a budget.
Evaporative Cooling (Swamp Coolers)
As the name implies, evaporative coolers work by transferring heat through the evaporation of water. These units don't need refrigerant but do require a continuous flow of dry air. For drier climates, like Colorado, this type of cooling can be ideal!
If you need help deciding on the best air conditioning system for your home, call or contact Applewood. We can help you get the temperature down as the days heat up.