October 12, 2021
Preventing Water Damage: Indoors
Identifying the possible culprits of home water damage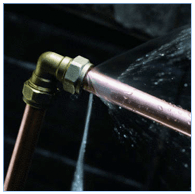 Home water damage can be expensive. Untreated mold and mildew can cause significant health risks. Leaky pipes, old plumbing and corrosion can lead to damage in your walls and ceilings. To minimize your chances of having water damage in your home, we've put together a quick guide of prevention tips.
We highlight the major areas where you'll likely find water damage. Ceilings, floors and walls that contain interior plumbing are always at high risk. Slow leaks are hard to notice and particularly destructive if not caught right away. Your home insurance may not cover water damage restoration and repair so learn to identify the warning signs of a leak in your home.
The Kitchen
Your kitchen is a hub of activity. You use your kitchen sink for cooking and cleaning. Your refrigerator may have a plumbing line to make ice. There are plenty of opportunities for leaks.
Periodically check for water damage under kitchen cabinets where the sink hose connects to the water supply. Look around the base of the dishwasher for evidence of leaks, such as discolored, warped, or soft flooring materials, water damage mold or damage to nearby cabinets.
If your refrigerator has an icemaker, make sure the hose connection is securely attached to the water supply line. Watch for a wet spot on the floor. It may be a sign of a crimped icemaker line about to burst.
Replace deteriorated caulk around sinks where water might seep into the wall or cabinet below.
A slow-draining pipe may indicate a partially blocked drain that needs cleaning.
The Bathroom
Steamy showers and splashing kids in the bathtub are two ways water damage in bathroom walls or floors begins. Make sure your bathroom is properly vented and that you mop up after any drippy users to keep your bathroom dry.
Remove and replace deteriorated or cracked caulk and grout around showers or bathtubs.
Watch for stains or soft areas around nearby walls and floors where a broken supply pipe behind the wall is leaking.
Repair leaking drainpipes and shower pan leaks. If necessary, contact us for help.
Check under the sink and in the vanity for leaks from water supply lines or drainpipes.
Avoid items that can clog toilets such as wipes, too much toilet paper or objects such as hanging bowl deodorants.
Don't use chlorine tablet cleaners that may corrode internal plastic or rubber parts of toilets.
The Basement, Laundry or Utility Room
In addition to your laundry machines, your basement usually contains your furnace or boiler and your water heater. Basement water damage can occur in any of these spots. Follow these tips to keep moisture, mold and mildew from forming and causing problems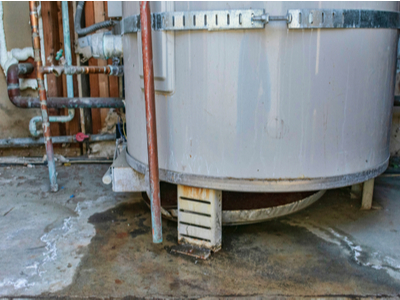 Replace laundry hoses every 3 to 5 years as part of a proactive maintenance program. Check regularly for bulging, cracking, fraying, and leaks around hose ends.
Make sure hoses don't kink. Leave at least 4 inches between the water connection and the back of the washing machine.
Install Water heater on the lowest level of the home, next to a floor drain, or inside a drain pan piped to the floor drain.
Check around water heaters for wet spots on the floor or a rusted tank.
Have your furnace or boiler serviced annually.
Test your sump pump before the start of each wet season. Sump pumps are not intended to last more than 10 years and will likely need components replaced or serviced within those 10 years
Your Colorado Home Plumbing and Water Damage Experts
The technicians at Applewood plumbing are your home care experts in Denver and Boulder. If you experience bathroom water damage or plumbing leaks in any part of your home, schedule with one of our water damage repair experts to stop leaks from damaging your home.